The nation's low price grocery leader and one of America's favorite grocers. Our award-winning products are known for their exceptional quality and value. Our careers are earning honors from Forbes to Top Workplaces because we transform raw talent into a powerful business force. We're growing at an unprecedented rate. ALDI is one of the fastest-growing retailers in the nation, and we are charting an aggressive growth course to become the third-largest U.S. grocery retailer by store count by the end of 2022. That means we need to find the next generation of leaders, eager to influence and positively impact our growing operations. That's where you come in - you have the opportunity to help us share our exciting story and educate individuals on the career possibilities at ALDI so they can make the best decision for their futures.

District Manager
Help Your Students Start Their Success Story
From College Grad to Executive - ALDI District Managers

Overview
As an ALDI District Manager, your students will lead and inspire their teams to succeed. While managing up to six stores and millions of dollars in business, District Managers demonstrate to their team, their stores and their customers what it means to work with passion and integrity. They lead by putting their team's and customers' needs first, facilitating collaboration at every turn and sharing their drive for success. Their accomplishments are noticed across our company. And above all, they play a key role in making sure our customers get the highest quality products at the lowest possible prices. With more than 50 million customers each month, that's a lot of opportunity to make an impact.
With this responsibility comes rewards - our District Manager position offers a minimum $85K salary with an increase to $90K starting January 1, 2022* (inclusive of $5K signing bonus). We also provide our District Managers with a company provided car, either an Audi A3 or BMW X1, and 50+ weeks of award-winning training where they will experience all aspects of running a successful operation.
*Salaries/bonuses very by market.
Training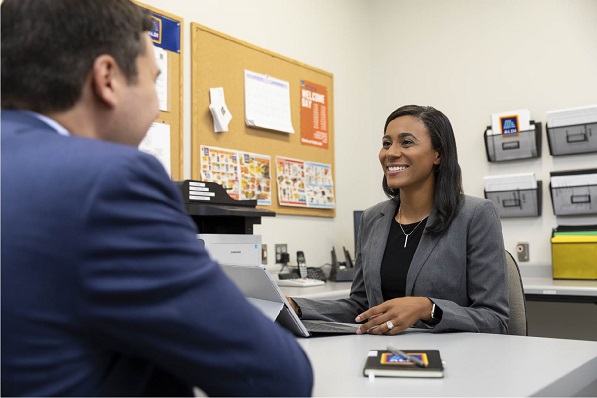 Our ALDI District Manager program starts with 51 weeks of training that introduces new DMs to the role and immerses them in our culture and values while they gain the tools they'll need to thrive as a District Manager. The training program was named Best in Class by ERE, the premier source for information in the HR and recruiting industry.
A key part of the training is the Peer Advisor role. Along with being a one-on-one mentor, the Peer Advisor walks new DMs through the training process, showing them how to succeed in the role and helping them build a dependable support system as they work through the training.
Training Overview
The first 31 weeks focuses on hands-on learning for store operations.
The last 20 weeks focuses on leadership training.
Phase 1 - Store Operations
In-Store training prepares our District Managers for all facets of daily operations, including staff development, merchandising, ordering, scheduling, inventory and cash control. Here's how we break that down:
3 weeks with Peer Advisor
5 weeks of in-store training
1 week of Warehouse training
6 weeks as acting Assistant Store Manager
1 week of store training overview
14 weeks as acting Store Manager
1 week of real estate and purchasing training
Phase 2 - Executive Training
Next, we partner new DMs with two District Managers for hands on District Manager experience. During this time, they'll continue to build their knowledge and skills as they see firsthand what it's like to be entrusted with real responsibility and decision-making authority. They'll learn how to manage millions of dollars in business, oversee and develop numerous teams of employees, and make the executive-level decisions they need to soon lead a district of their own.
6 weeks of DM/Executive training
1 week of administration training
8 weeks of DM training
1 week of executive training with VP and Director of Operations
4 weeks of managing your district with supervision
Various 1-day career development seminars
Roles & Responsibilities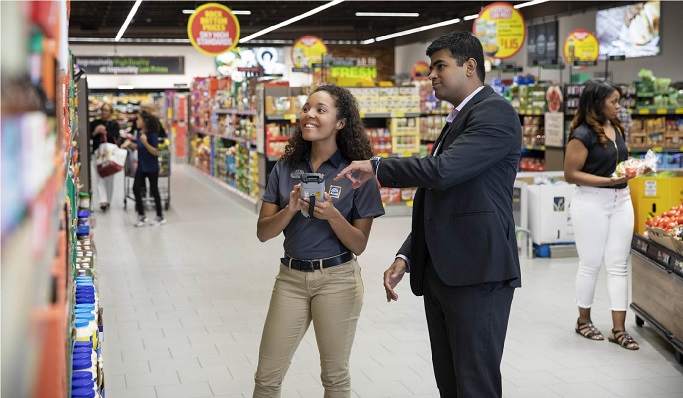 ALDI District Managers manage and lead up to six stores. After a year of training, they'll work hand in hand with their Store Managers to guide and manage the operations of an entire district. This means they'll have the opportunity to influence every aspect of the stores in their district — from projecting staff needs and inventory, to long-term planning and motivating their team — all while making a true impact on ALDI's success, their district's success and their own success.
Manage millions of dollars in business across your district
Frequently walk the floors of your stores with the Store Managers, encouraging and coaching your team and talking directly with customers
Keeping store leadership focused on meeting ALDI's goals and big picture objectives
Work with your team of managers to oversee customer service, staffing, development, training, inventory, budgets and revenue controls for up to six stores in your district
Set ambitious standards for every member of your team to deliver superior customer service at every turn
Maintain high ethical standards and live ALDI's values in everything you do
Fuel our company growth by opening new and remodeled ALDI stores
Help ALDI remain an industry leader
Career Development
We're committed to continuously developing our District Managers. We offer annual performance reviews where DMs are given the opportunity to review career aspirations with their direct leader. We also offer various development programs focused on refining personal communication styles and leadership ability. They'll always be learning and growing with opportunities to participate in special assignments, committee work and even by taking on a role as a peer advisor. Is our development plan successful? Many ALDI Directors, Vice Presidents and Presidents began their careers as District Managers and continue to grow with ALDI.
Meet Our District Managers
We know ALDI careers are pretty great. But, don't just take it from us - hear what current ALDI District Managers have to say about their role. Watch our District Manager video testimonials, and encourage others to watch them too to get real-life insight on what it is really like to work at ALDI.
VIEW OUR DM TESTIMONIALS BY CLICKING HERE

Why Work for ALDI?
Diversity Strengthens Us
At ALDI, we believe that understanding, respecting and valuing the uniqueness of our people and customers makes us stronger. That's why we are committed to building an inclusive culture that values diversity in all its forms. Our core value of 'responsibility' ensures that we treat our people, customers and partners fairly, in the pursuit of our core purpose. As a global retailer, we strive to represent and serve the needs of the communities we operate in and improve the world we live in.
Our diverse teams foster creativity and innovation and help us achieve more together. In fact, in 2018, approximately 45% of our management was female which led to ALDI being recognized by Forbes as a best employer for women. We are also proud to be recognized as a top employer by the Black EOE Journal and Hispanic Network. ALDI has been a proud supporter of UNCF for over 25 years and have donated more than a million dollars. We don't want to stop there; we're always pushing to be a better ALDI. We're committed to further diversifying our workforce, and we're counting on you to help us do it.
We're Stocking Our Shelves With Awards
From "employer of choice" awards to product awards, ALDI continues to be recognized year after year! We hire the best talent to bring the best products to our customers every day. A career at ALDI lets our employees collaborate and succeed while knowing that they have the support and stability of an international organization behind them. It's that kind of support that has earned us key recognition as an employer of choice, including a spot on Forbes' lists of America's Best Large Employers, Best Employer for New Grads and Best Employer for Women, and recognition with the Black EOE Journal, Hispanic Network, and National Top Workplaces. We're also proud to have been named one of 2018's Best and Brightest Companies to Work For in the Nation.

CLICK HERE TO VIEW A COMPLETE LIST OF ALDI AWARDS
Active in the Community and Around the World
From fighting food insecurities to advancing sustainability, we are dedicated to creating a better future. We want individuals to know that they're working for a company who not only cares about them, but also cares about the earth and our community. Take a look at some of our recent accomplishments:
In 2018, ALDI donated more than 28 million pounds of food, equivalent to over 23 million meals, which is the equivalent of a meal for everyone in Chicago and LA combined.
By 2025, 100% of ALDI packaging, including plastic packaging, will be reusable, recyclable or compostable. ALDI will also reduce packaging materials across its entire range by at least 15%.
Recycling is a key focus - in July of 2018, we joined the How2Recycle program, which will make it easier for our customers to know if a package can be recycled.
In 2018, we recycled over 251,000 tons of material. Through recycling this material, we have avoided the greenhouse gas equivalent of consuming 8,094,533 gallons of gasoline.

CLICK HERE TO LEARN MORE ABOUT CORPORATE RESPONSIBILITY AT ALDI
Learn More
Know some students on your campus who would shine bright as an ALDI District Manager? Encourage them to visit the ALDI career site to learn more about our District Manager role and the impact they can make.
GO TO: https://careers.aldi.us/district