We're opening a new Warehouse in Loxley, AL. That means great job opportunities are coming your way.
ALDI is proud to be a trusted neighborhood grocery store, and we're thrilled to be expanding our business to support you in the Loxley, AL area. With our most recent expansion across the U.S., we've created 25,000 new opportunities — and we're just getting started. Grocery stores are now more important than ever, and when you join the ALDI Warehouse team, you'll have opportunity to make a difference, help deliver value to our customers and grow your career within a stable organization.
At ALDI, our warehouses are all about efficiency, flexibility and teamwork. From our divisional distribution centers across the country, you'll play a key role in our supply chain and ensure that our stores are always fully-stocked. As you can imagine, this is a dynamic environment where new products show up every day – one where you'll get training, work safely and help our entire company run smoothly.
We're hiring for our new Warehouse opening soon in Loxley, AL. We can't wait to meet you!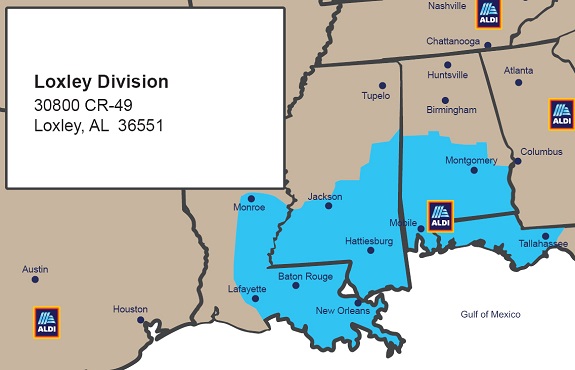 Warehouse Roles
As part of the ALDI Warehouse, you will play a key role in making sure our customers have access to the product they want in our stores. Join the ALDI Warehouse team and help the nation's fastest growing grocery store continue moving forward.