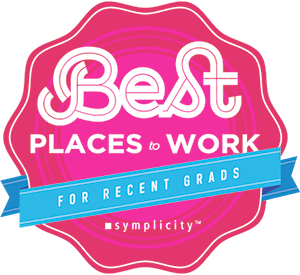 Best place to work
for recent grads 2016.
Every year, Symplicity gathers intel and research on companies that foster environments where new grads can flourish and grow. They take all this information and create a list of the top 25 best places to work for recent college graduates. ALDI is very proud to announce that we've been selected as one of the nation's best employers!
We would like to thank all of our wonderful employees that make our company such a great place to work. You made this honor possible!
There are a number of perks that come with a career as an ALDI District Manager. You'll have a clear career path with endless opportunities for advancement. Our highly efficient operation enables us to achieve cost leadership in our markets and to optimize profit. This in turn provides us with a strong financial base allowing us to grow the business and offer an excellent employee working environment and competitive remuneration. ALDI District Managers lead teams of up to 60 employees and manage millions in sales. Our District Managers accomplish things some professionals wait their entire career for, and they make a true impact on our global organization.
But don't just take our word for it. Here is what one of our recent college graduates had to say about their experience with our company: "ALDI exemplifies their investment in your growth through their yearlong training program, where you are challenged every day to become a stronger leader. No other company consistently provides new opportunities, such as a store grand opening or traveling abroad for 2 years. Endless possibilities." Link opens in a new windowRead more about our Best Places to Work award.
Want to join the best company for recent grads? Learn more about becoming an ALDI District Manager and the wonderful opportunities near you.